Experience Oakland Christian School
We would like to invite you and your family to experience Oakland Christian School by exploring our beautiful 40-acre campus filled with creative spaces where learning comes to life! Your family is welcome to schedule a personal tour with our admissions team or attend one of our admissions events that are held throughout the year.
Additionally, students in grades 3-12 can join us for a shadow visit where they will meet their teachers and interact with fellow students for a day. It's a great opportunity to see if OCS is the right fit for your child.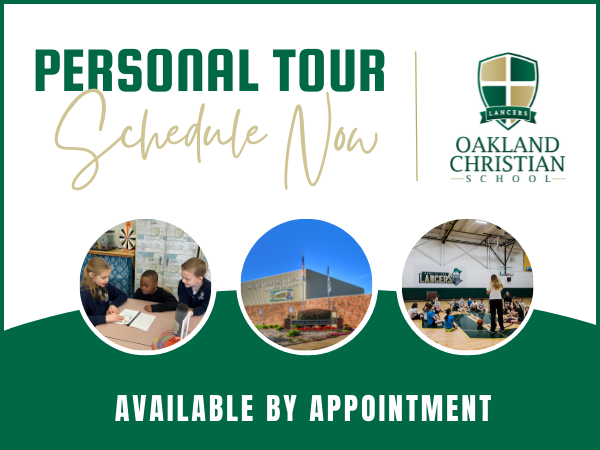 Tours are available by appointment throughout the school year and summer for all parents and students from Junior Kindergarten through High School. Experience the vibrant atmosphere of our Christian community at Oakland Christian School!
Schedule a personal tour by clicking the link below or by contacting the Admissions Office at 248-373-2700, or email admissions@oaklandchristian.com.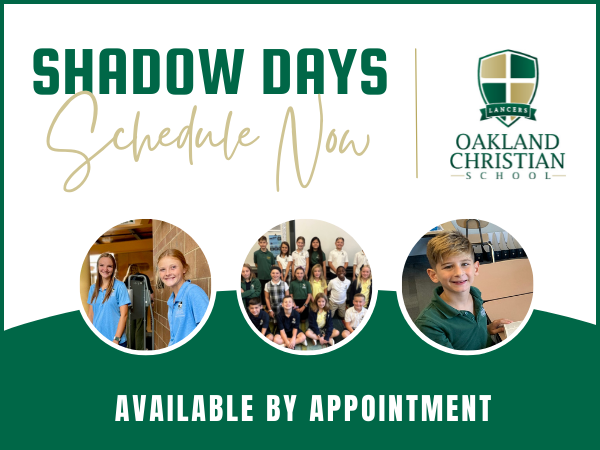 Arrange for your 3rd-12th grade child to spend a full school day "shadowing" an OCS student in the same grade level. This will provide an opportunity for them to meet other students, engage with teachers, and get a taste of what it's like to be a student at Oakland Christian.
To schedule a shadow day, simply click on the link below or get in touch with the Admissions Office at 248-373-2700 or via email at admissions@oaklandchristian.com.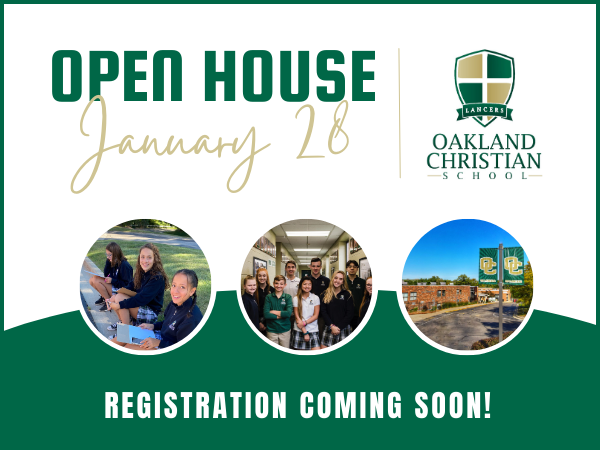 We invite prospective parents to join us to learn more about what sets Oakland Christian School apart from the rest. Experience a guided tour of our campus, connect with our dedicated staff, and envision how Oakland Christian could be the perfect fit for your family!
Please save the date for our Open House event, taking place on Sunday, October 30th, between 2 and 4 pm. We look forward to sharing the unique Oakland Christian School experience with you. It's is a fantastic opportunity to explore our campus, interact with our passionate staff, and envision the possibilities for your family. We can't wait to welcome you and help you discover what makes our school exceptional.
See you there!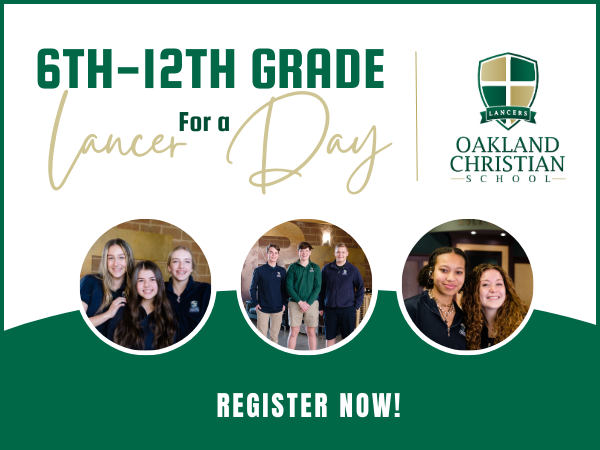 We invite prospective students and their families to join us for Lancer for a Day. This event provides a unique opportunity for students to step into the shoes of an OCS student and experience our community firsthand. Students will attend classes, interact with our dedicated faculty, and make new friends.
For parents, after you drop your student, we invite you to join us for an informational session. This is an excellent opportunity for you to learn more about our school, our mission, and our commitment to providing a well-rounded, Christ-centered education. You'll have the chance to meet our administrators, ask questions, and tour the school.
Register for one of our Lancer for a Day opportunities - November 10, February 9, and April 12. We look forward to welcoming you and your family to our campus and sharing the OCS experience with you.