The Tison Family
September 01, 2020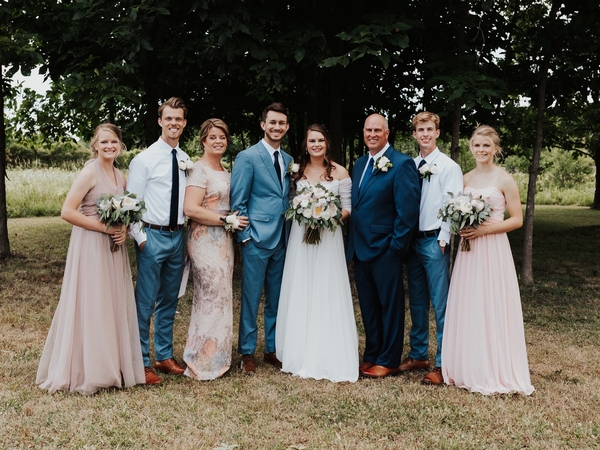 Michael (1987 grad), Sarah (1988 grad), Kayla (2015 grad), Zachary (2017 grad), Seth (2020 grad), Micah (11th grade), Lydia (10th grade), Brand New Son-In-Law Zachary Bouren (2015 grad)
Mike began his OCS journey in 1983, I (Sarah) did in 1984, and our kids in 2008. Mike and my parents both wanted a strong Christian education and sacrificed greatly to afford for us to go there.
My mom, Freddy Kemler, worked as the secondary admin for 25 years (retired in 2008) and it was always Mike and my dream to send the kids to OCS someday since the school had such an impact on our lives. We too knew the sacrifice was big but were willing to give it and have never regretted the decision.
We love all the sporting activities the kids are involved in and go to all their games, Mike is the Varsity Softball coach and has coached Middle School baseball and basketball boys and girls. I am typically volunteering as the team mom for any of the sports the kids are playing and ran the Spiritwear booth for 8 years. I am now serving on the committee to start the boosters club. Some of the activities my children have participated in include: Soccer, Volleyball, Basketball, Bowling, Baseball, Softball, Orchestra, Band, Student Council, NHS, and LEAD.
What's unique about OCS is the closeness you have with other families. They really are all family to us and have many VERY close relationships that started at OCS. The teachers really do love our kids. They want them to succeed and want to partner with the families to ensure they do succeed. They are easy to talk to and go the extra mile. Since we are a sports-oriented family, we love the fact that our kids can participate in any sport. In many large public schools, sports are very difficult to get involved in unless you have been playing it all your life and are a high-level player. The coaches pray with and for the kids and are more concerned with their character than their skill. Although we have top-notch coaches that really do know and love the game.
To new families, seek out someone who you can ask all those "silly questions". So many times we take for granted that those of us who have been around for a long time know things that new families do not. We would love to come alongside and help navigate with them.
To the teachers, in this uncertain time, know that we parents love and appreciate all you are doing and know it isn't easy how much you have had to change the way you are teaching. We are continually praying that you receive an extra measure of patience and endurance.
Photo credit: Liz Erban Photography