Posts Tagged "Robotics"
November 09, 2022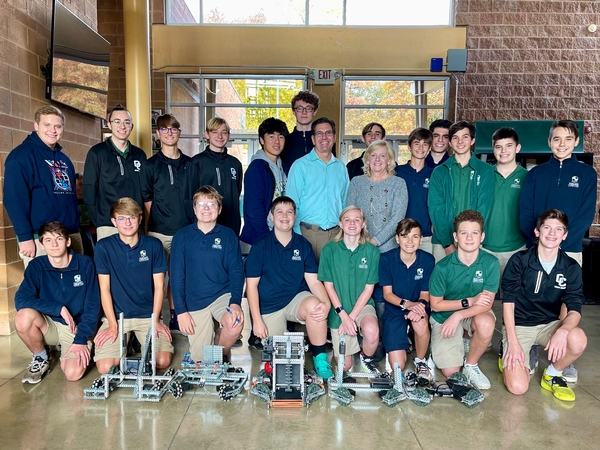 Pictured here, Theresa Doan, Corporate Social Responsibility Manager at Genisys Credit Union, smiles for the camera with the Oakland Christian School Robotics team, their VEX robots, and team leader Mr. Greg Favaro. Genisys, which sponsors 12 robotics teams, recently paid a visit to learn more about robotics at OCS because they recognize the importance of forming community ties.
"We are excited to expand our commitment to include the OCS robotics team. I was so impressed with their presentation. Our sponsorship will continue to promote key skills of leadership, communication, and team collaboration," says Theresa.
The team is also sponsored by Gestamp, an international group dedicated to the design, development, and manufacturing of metal automotive components.
Robotics Program Details
OCS Robotics, now in its sixth year, has achieved an impressive 12 tournament champion titles. During the past three years, the team participated at the state level, and for the last 2 years—world! They practice year-round with 20 students in grades 7 – 12.
Staying competitive requires funding to attend tournaments, and purchase design elements, VEX metals, and robot controllers in order to adapt to new games every year.
"Robotics encourages students to find solutions and develop critical thinking skills. STEM principles prepare students to become innovators," says high school senior Avery Almy, during the team's recent presentation.
Team Qualifies for State Championship
In other recent news, the OCS Robotics team composed of seniors received an Excellence Award at a tournament held at Kettering University. There they competed against 25 teams representing six different schools. This award qualifies OCS to compete at the State Championship at Kettering on February 26, 2023. Additionally, the team was ranked at the top for their engineering notebook rubric, exhibited a high-quality team interview, and displayed positive team conduct, good sportsmanship, and professionalism.
Baker College Education Advocate Nomination
Celebrations continue with the recent news that Oakland Christian School was just nominated, thanks to Robotics, for the Baker College Education Advocate Award in the Gold and Silver Awards hosted by the Auburn Hills Chamber. This award will be presented to the company with the most progressive education initiatives.
Thank you to Rochester Media and Walker News of Rochester Hills for sharing our story!
Learn more about Oakland Christian School Robotics HERE.